Details

Written by Tom
Category: Ignore The Machine News
Published: 08 September 2017
Hits: 3331
Write comment (0 Comments)
Details

Written by Tom
Category: Ignore The Machine News
Published: 03 December 2016
Hits: 14281
3. CINEFONIE-TAG SAARBRÜCKEN
DARK SILENCE-Festival

Für den 3. CINEFONIE-TAG in Saarbrücken hat sich die 35 MILLIMETER-Eventagentur Verstärkung geholt. Zusammen mit dem Underground/Independent-Label HOLY HOUR RECORDS präsentieren wir einen Tag voller Musik und mit einer feinen Auswahl an Filmen und dem dazu passenden Rahmenprogram.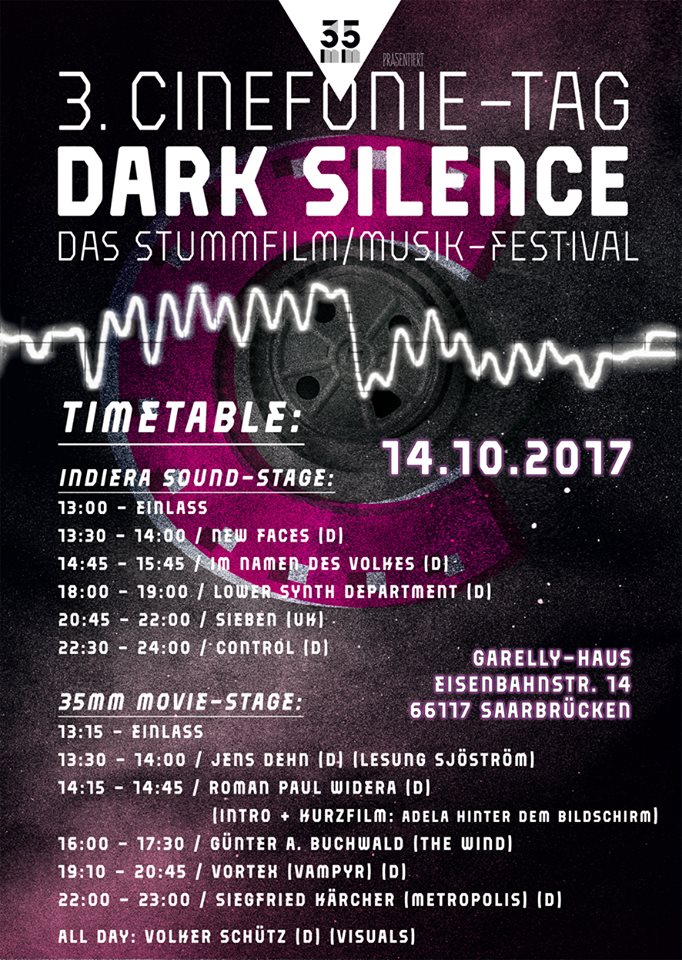 Write comment (0 Comments)
Details

Written by Tom
Category: auf tour
Published: 30 June 2017
Hits: 6429
1919 sind in der nächsten Zeit auf Tour. Unter anderem spielen sie auf dem Minicave Festival in Münster, aber auch ganz in der Nähe in Metz und in Paris! Hier die Termine:
July 21st - Slow Club - Freiburg, DE. (Live DVD Recording) Tickets/Info
July 22nd - La Chaouée (+ SHOWCASE @ La Face Cachée) - Metz, FR. Tickets/Info
July 23rd - Le Klub - Paris, FR. Tickets/Info
August 9th - Parish - Huddersfield, UK. (w/ MDC) Tickets/Info
September 2nd - O2 Academy Islington - London, UK. (w/ Ruts DC, Chelsea + Chron Gen) Tickets/Info
September 29th - AZ Mülheim - Mülheim an der Ruhr, DE. Tickets/Info
September 30th - Campus Noir - Ilmenau, DE. Tickets/Info
October 1st - Minicave Festival - Triptychon - Münster, DE. Tickets/Info
October 7th - TBC - Berlin, DE.
October 20 - Goth City Festival - Wharf Chambers - Leeds, UK. Tickets/Info
Write comment (0 Comments)
Details

Written by Tom
Category: sonstige News
Published: 30 June 2017
Hits: 7174
Tanz mit Peter Punk im Nilles
Auf vielfachen Wunsch gibt es am Montag, dem 14. August (Dienstag ist Feiertag!!), zum ersten Mal in Saarbrücken eine Hochsommer-Ausgabe von "80s & Alternatives". Ort dieses allseits beliebten Tanzvergnügens mit DJ Peter Punk ist ab 22 Uhr wieder das Gasthaus Nilles im Nauwieser Viertel, Blumenstraße 8. Zu sommerlichen Temperaturen wird mit Unterstützung der neuen Klimaanlage coole tanzbare Musik aus den 80er Jahren geboten, die Zeit der Waver, Popper, Punks und New Romantics. Dazu werden die Hits der Alternative Charts serviert. Der Eintritt ist frei.
Mehr Infos auch unter
https://de-de.facebook.com/Nilles.Saarbrooklyn/
Write comment (0 Comments)
Details

Written by Tom
Category: Ignore The Machine News
Published: 29 May 2017
Hits: 8856
Am Samstag den 8.7. gibt es die nächste Ignore The Machine Party.
Dieses mal mit Tom & Wilfredo Torpedo - Also Deathrock, Batcave, Post Punk, Minimal, Wave,... die beste Mischung, die die Stadt zu bieten hat!
Wie immer im Canossa / Uni Saarbrücken von 22 bis 5 Uhr!
Hier der Link zum Facebook Event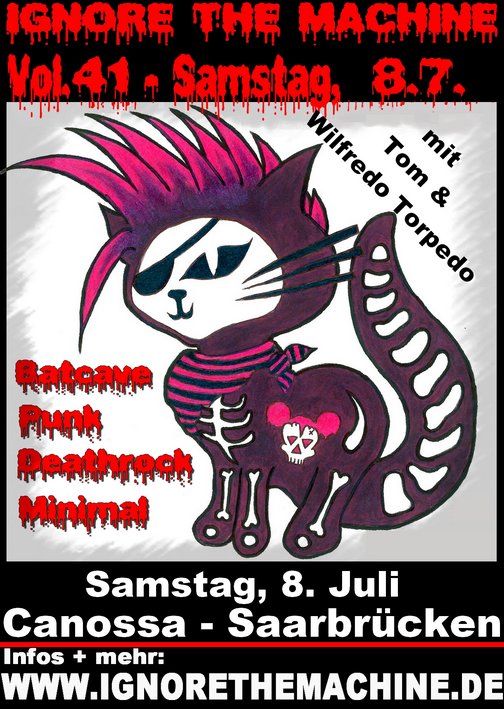 Write comment (0 Comments)